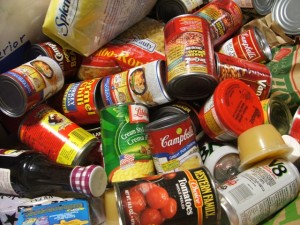 The food bank has always been a key program of The Lighthouse, operating in varying capacities over the years to serve the immediate physical needs of the community. The program began as a "closed" food bank, providing food only to clients of The Lighthouse programs; but a little more than a decade ago it changed to become an "open" food bank, equipped to meet needs in the Bloor-Bathurst neighbourhood.
While we are blessed to be able to continue to operate in this neighbourhood, various factors and challenges in more recent years have put a strain on the food bank. Of particular note, the gentrification of the Bloor-Bathurst neighbourhood has contributed to the growing demand for food bank services.
As rent continually increases with the demand for housing, low-income households are increasingly burdened by the cost of living, and more and more family budgets are being stretched beyond their means. In 2015, the average bachelor apartment in Toronto cost $900.00 per month, making the choice to live in the city a very expensive one. In order to cover the cost of housing, food bank clients often skip meals to make ends meet. According to a Daily Bread Food Bank report, food bank clients on average have only $6.67 per day after housing costs are paid. That's only $200.00 for a 30-day month to pay for everything that is not shelter – such as (without limitation) childcare, clothing, food and transportation. Considering that it costs $3.25 to ride the TTC one way, a round trip on the TTC would leave the average food bank client with $0.17 for the rest of the day.
Food prices have also risen dramatically, especially the prices for fresh fruit and vegetables – luxury products for food bank clients. Purchasing food at affordable prices is getting harder and harder. With the decreasing value of the loonie, the University of Guelph's Food Institute predicts that Canadians will spend an average of $345.00 more on groceries this year than in 2015. This presents an additional hurdle for food bank clients already living in poverty.
Your donations are key to providing food assistance to the hungry in our community. As of 2015, The Lighthouse's food bank has been distributing approximately 450 food hampers to low-income families every month, and each week up to 70 households come to The Lighthouse for food. These households are largely comprised of underemployed youth, people with disabilities, newcomers to Canada and mothers with small children.
At The Lighthouse, clients are welcomed with a warm greeting, coffee and treats. Our food bank operates like a grocery store, where clients can choose and "shop" for their own food from the shelves with the assistance of volunteers. Having our clients choose their own groceries creates a welcome and respectful space without sacrificing dignity. Moreover, registration for the food bank is straight-forward, with new clients completing a basic online profile with staff or a volunteer who explains the rules of the food bank. With an online profile, clients are then able to access any and all food banks within the network of Daily Bread Food Bank food banks, which The Lighthouse food bank is a part. For regulars, a simple hello is all that is needed to sign in, and everyone at The Lighthouse strives to learn the name of each and every food bank client who comes through our doors. Clients and staff mingle and chat with each other to catch up on the activities of the week. There is a genuine sense of community as family stories, neighbourhood news and recipes are shared all around.
Many of our food bank clients have also become food bank volunteers. From unloading the truck to stocking shelves and packaging food, our food bank volunteers work together as a team to ensure that we maintain a clean and safe environment. For 2016, one of our main growth areas is providing training to food bank clients so that they can be equipped as volunteers. If a client volunteers consistently for at least 9 months, the client is encouraged to attend further training in matters of food handling and safety, and is then given more responsibility.
The goal of this client-volunteer development program is to promote leadership and empowerment with practical training that can lead to life improvement and potential job opportunities. We are proud to announce that Paula, our first client-volunteer, recently completed such training and acquired her Safe Food Handling certification.
The Lighthouse's food bank, though small in size, is big in respect, hospitality, quality food and warm hearts. We address the very real need of hunger in our neighbourhood, while being a source of information and referral to our clients. Our clients build community within our walls and connect us to the neighbourhood around us, allowing The Lighthouse to understand and meet our clients' needs in a real and direct way. The Lighthouse's food bank is also a place for development and growth, where we share our resources with those in need to improve our clients' sense of wellbeing. Your donations enable The Lighthouse to demonstrate God's love to our community. We are grateful for your prayers and ongoing support.
To ensure that The Lighthouse's food bank is able to meet the needs of our neighbours, please consider organizing a food drive for our food bank, donate to The Lighthouse, and/or join the conversation about the impact of poverty on Canadian society.