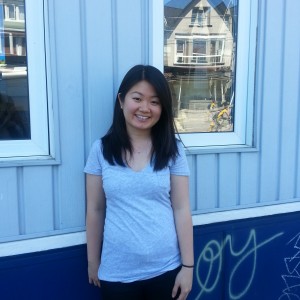 Hi everyone! My name is Yao Dan, and I am one of the summer students here at The Lighthouse this year. In the fall, I will be entering my third year as a Life Science student at U of T studying Neuroscience and Physiology.
My first encounter with The Lighthouse was volunteering at the Vietnamese Christmas Celebration with my church's youth group in 2013. I learned about wonderful works that God has been doing through The Lighthouse, and since then have always wanted to be involved in this ministry.
Growing up, I've always seen the needs, the emptiness, and the struggles of the people around me, but at The Lighthouse, I get to see so many lives being transformed by the works of God. The Lord sees the needs of His people and He provides for them. He works through the hands of the loving staff here, both upfront and behind the scenes through counselling, workshops, the food bank, summer camps, and all the various services provided. It is such a blessing to be granted the opportunity to work with such a welcoming, loving, and diverse community here at The Lighthouse.
I am mainly involved with the Chinese Children's Summer Camp held at Calvary Logos Baptist Church in Scarborough on Tuesdays and Wednesdays from July 8th to 30th. The theme of this year's camp is "Treasure God's Love", and registration is already full with 66 kids! There will be singspiration and worship every day, Bible stories, arts and crafts, lunch, snacks, indoor and outdoor activities, as well as a field trip to the Ontario Science Centre with families and friends! There is still a lot of finishing-up to do, but we are so excited for camp to start!
I was also asked to lead exercises and teach English to a lovely group of Hispanic Seniors on Friday mornings. It is nerve-wracking as a 20 year old girl who has rusty Spanish and a quiet voice to teach a whole group of people! Even though I knew how friendly and loving they are as they always greet me with hugs and kisses, I was super nervous on the weeks, and especially the HOURS right beforehand. Thankfully, my first day teaching was a lot of fun, and at the end of the day they said "Bye teacher! Thank you!" and gave me more hugs and kisses as they were leaving!
I love everything about The Lighthouse. It's honestly been such an amazing experience here. Although it's only been four weeks, I've already learned so much, and I truly believe that God is equipping me to serve my own home and community by serving here.
Find out how you can support Yao's work this summer, contact Rob at [email protected]