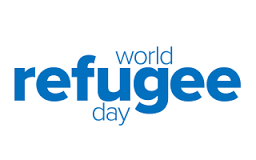 June 20 is World Refugee Day. There are approximately 60 million refugees and internally displaced people in the world today. This is almost double the population of Canada and according to the United Nations High Commission for Refugees, this number has reached its highest point since World War II. According to Save the Children, more than half of this number are children – 53% of Syrian refugees are children. Each day conflict and violence displace men, women, and children forcing them from their homes in desperate search for safety. Refugees have a higher susceptibility to diseases such as cholera and malaria because they have limited access to clean water, adequate sanitation, food, shelter, and health care. Refugee children are unable to attend school and therefore do not learn the basic literacy and numeracy skills. World Refugee Day is a global response to raise awareness and to advocate for the safety of refugees.
We encourage you to be a part of this global movement.
Thank you for your support in this ongoing global campaign to support and help refugees. Please follow us through our newsletter and Facebook, and we'll keep you informed.